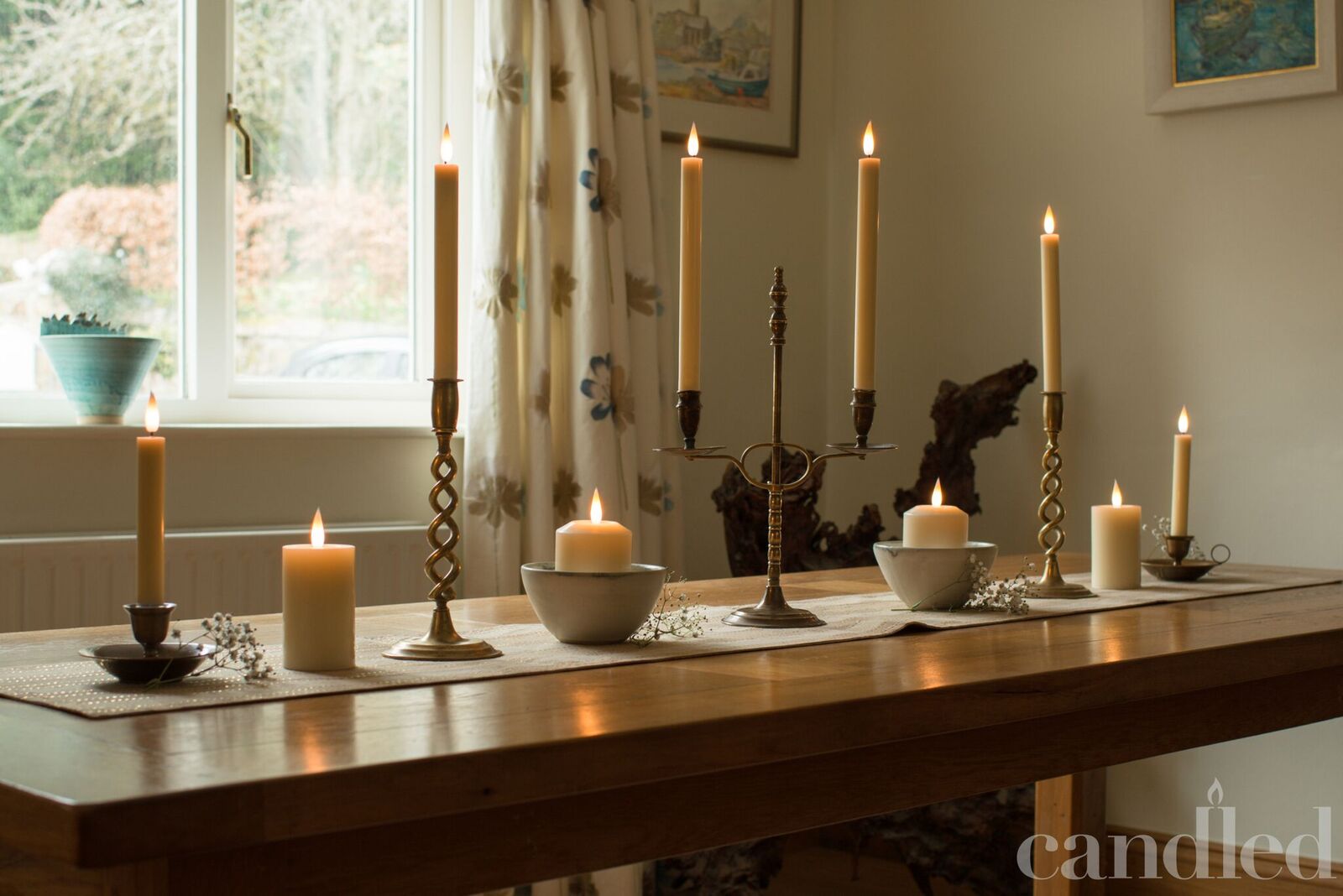 EU Orders
We only supply orders to UK customers from this Candled website. If you are shopping from the EU please visit www.mynovelty.eu
** SPECIAL OFFER ** FREE DELIVERY **
Use our discount code for free delivery of our CANDLED range. (UK ONLY)
freedelivery2023
Realistic LED Candles with the ambience of a real candle flame.
Create beautiful ambience with our innovative LED technology.
Our family business design and create stunning real wax, luxury flameless candles. Bringing safe candlelight into your home and an eco friendly alternative to burning real candles.
SAFE
We all know the risks of using candles in the home. With Candled, there is no naked flame, no heat, no dripping wax or fire risks – in other words making them completely safe in their surroundings.
COST-EFFECTIVE
Candled L.E.D technology will typically last in excess of 50,000 hours. For instance our dinner candles using rechargeable batteries would be the equivalent of buying 7000 traditional dinner candles!
ECO FRIENDLY
Keeping Candled out of landfill is vitally important therefore our solution is to re-wax or recycle.  We always try to work with fellow eco conscious suppliers and associates.
Meticulous Design
Handcrafted using our own blend of quality real wax. Featuring an innovative design melted wax effect surrounding the 'wick' elegantly reflecting the candled patented life like flame.
Efficient & Precise
Atmospheric lighting is simply at the press of a button with our four unique brightness settings and two flame effect flicker rates. Both our dinner and pillar candles come complete with a standard remote control. 
"Breathtaking"
"The Candled candles look breathtaking in Powderham's Music room! We have been researching LED candles for some time, in the US and Europe, and these are by far the classiest, most realistic fire safe alternatives we have seen. The sadness of not being able to allow candles following a couple small fires is gone now and the room is back to having the look and more importantly, the candlelit feel for which it was originally designed."
– AJ Courtenay (Countess of Devon) Creative Director, Powderham Castle
The quality of Candled's products and their level of service are of the highest standard.
Not only are their LED candles barely distinguishable from the real thing, Justin and his team have been a pleasure to work with and have fulfilled our bespoke orders with no trouble at all. We very much look forward to working with them again.'
– Sibyl Colefax and John Fowler
"The reflection of the melted wax on the pillar candle is brilliant."
"Oh wow, just when I thought the candles could not possibly be improved upon ! The reflection of the melted wax on the pillar candle is brilliant. Love the cartridge fitting for AA batteries Thank you Justin and Mark so much. Will be ordering again soon."
– Julie M
"Absolutely delighted"
"I bought 6 of these candles a while back and to say I am pleased with them is an understatement I am absolutely delighted with them. They are the most realistic candle, in my opinion, on the market today and I have travelled far and wide and have not seen it's better. Well done guys from Candled you have cornered the market with this one and I wish you all the best going from strength to strength. I visited the Beauty and the Beast Castle at Disney and your candles would look fabulous there as theirs are not a patch on yours ……. thank you again for mine ….. love them."
– Elaine B