HAPPY Easter!  

WISHING YOU PEACE, LOVE AND HAPPINESS from the Candled team.
EASTER is such a recognised part of the year, whether you think about Spring flowers, lambs and chicks, chocolate, hot cross buns or just fun times with your family during the Easter holidays.
We have been very lucky that to have a collection of very talented (and lovely) instagram'ers that have joined in with our first Easter / Spring Decor Blog THANK YOU!
Inspirational ideas that you can put together yourself with our range of luxury LED candles to decorate your homes and impress your family and friends!
Egg-citing table centrepiece
Mel Green @athomewithmelmel in Stoke on Trent has a 1900's Victorian Terrace which she enjoys styling with a beautiful array of  Nordic, Scandinavian , Modern and Emma Bridgewater decor.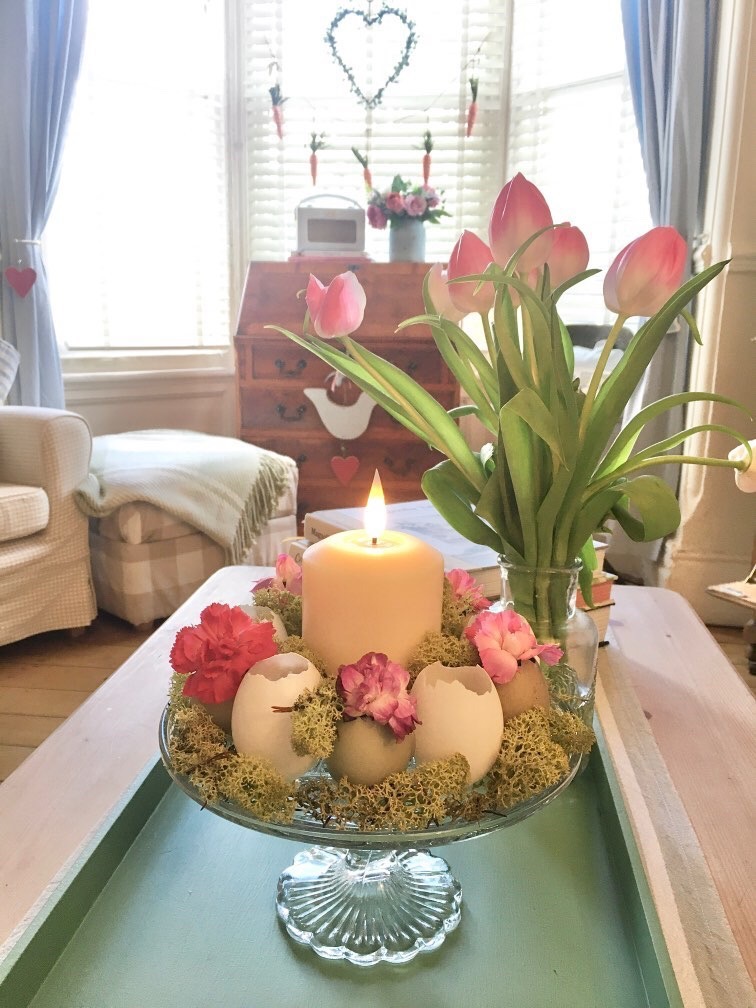 We asked her how she created her centrepiece…." I've used a mixture of duck eggs and pretty sage blue eggs (bought from Waitrose) using my glue gun I stuck the eggs together using a cake tin as a guide. I bought the moss off eBay. The eggs act like little vases so I added real flowers displayed on a glass cake stand – PERFECT!
Adding our 4″ x 3″ Pillar LED candle was the final piece adding a beautiful glowing ambience.
Think you'll all agree with what a beautiful table decoration this makes.
**Have you spotted her carrot garland?** – very seasonal !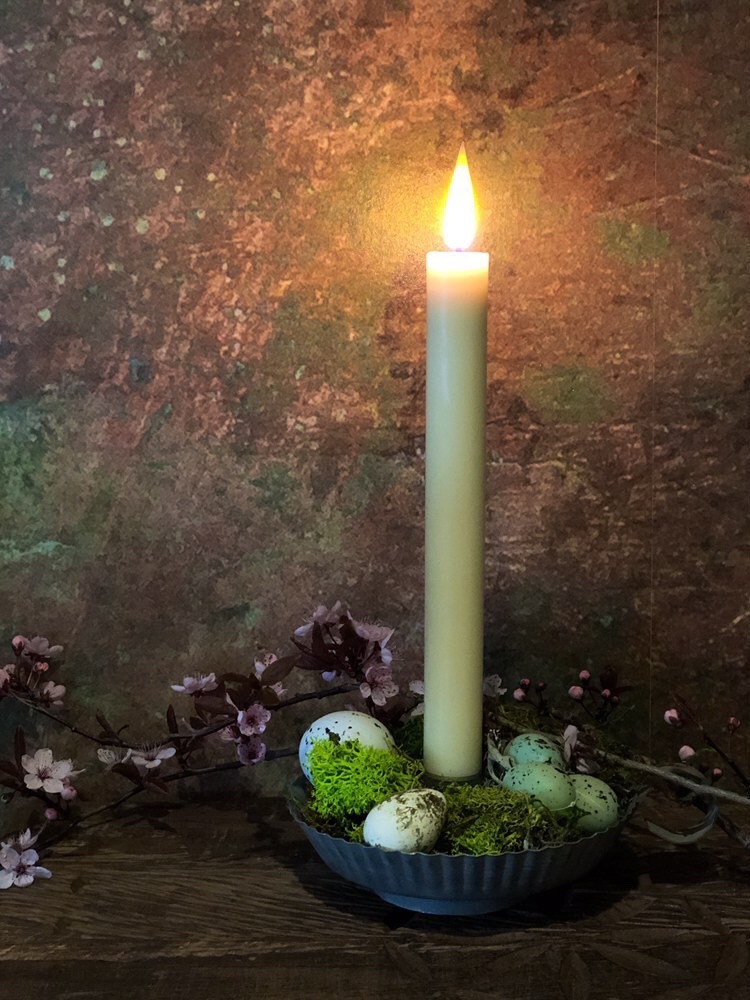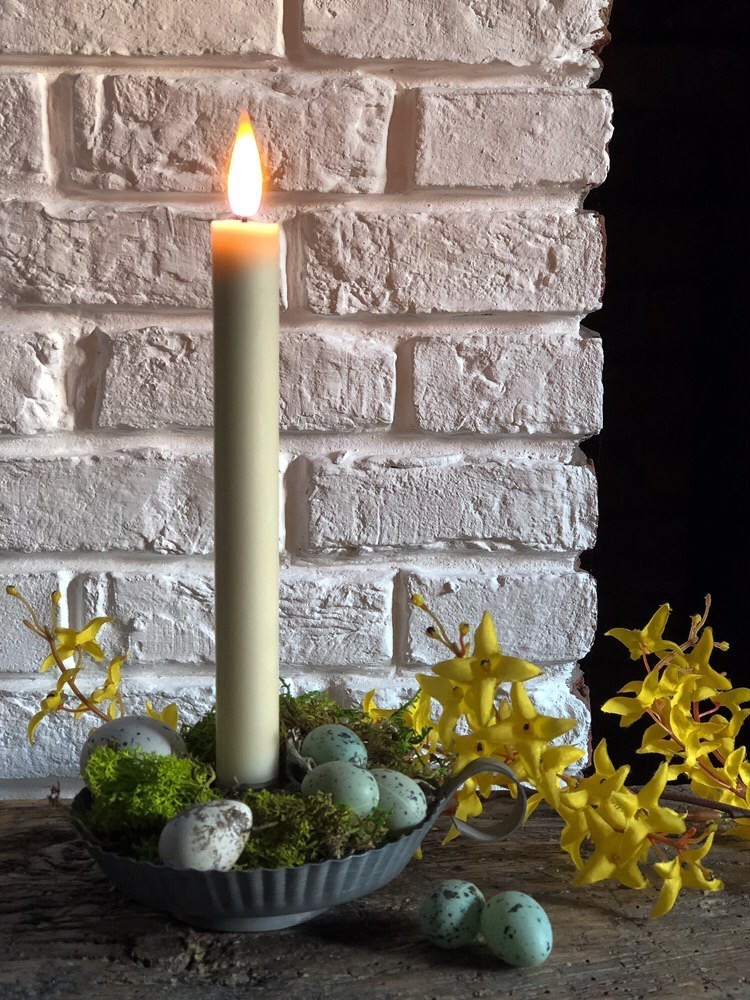 A Rustic Easter Decoration
Mo @mo_morshuis in Norfolk she has a beautiful home that she fills with her own creative home style which has been featured in Country Homes and 25 Beautiful Homes magazines!
Mo has styled her 10″ Dinner LED candle by placing it in a candleholder from @finenordic , surrounding the base with moss and quail eggs from a garden centre and adding the finishing touch of a sprig of spring blossom.
She says " this LED candle is so natural looking, right down to the multi tonal flame and flicker option. My favourite use for them is to illuminate my display cupboards, however at the moment its complimenting my rustic Easter decoration.
Surrounded by homegrown Spring flowers
Stephen and Brett @thecountrycrib in Somerset live in a stunning 19th Century thatched cottage boasting beautiful gardens where they spend most of their time growing their own food and cut flowers organically.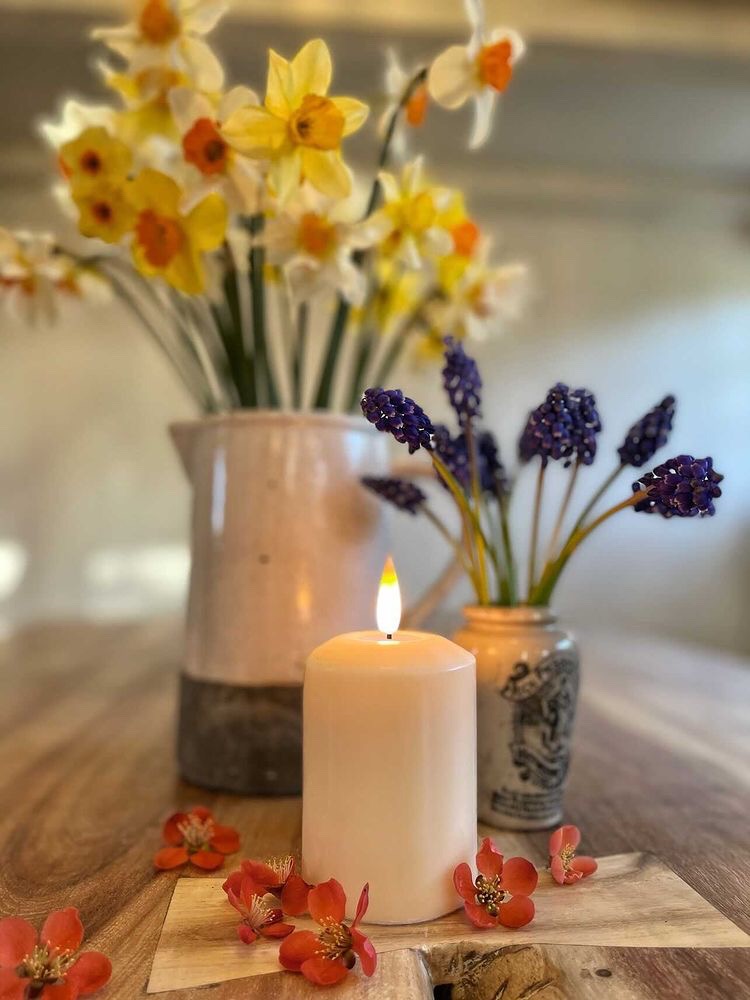 They have displayed their 4″ x 3″ Pillar LED candle surrounded by homegrown Spring garden daffodils and muscari foraged from their garden, displayed in a large vase from Oka Interiors Inspiration & Design and the smaller vase was a vintage store find.
They have added a sprinkling of chaenomeles petals (Japanese quince), still flowering strong from the winter
Stephen and Brett mentioned that " if your a lover of candles and particularly fellow thatch cottage dweller to check out our eco friendly realistic LED candle's – no flames and they look so real!"
Decor with character
Caryl from @Violet Grey Decorative who is a dealer in the UK that specialise's in unique antiques for the garden and home.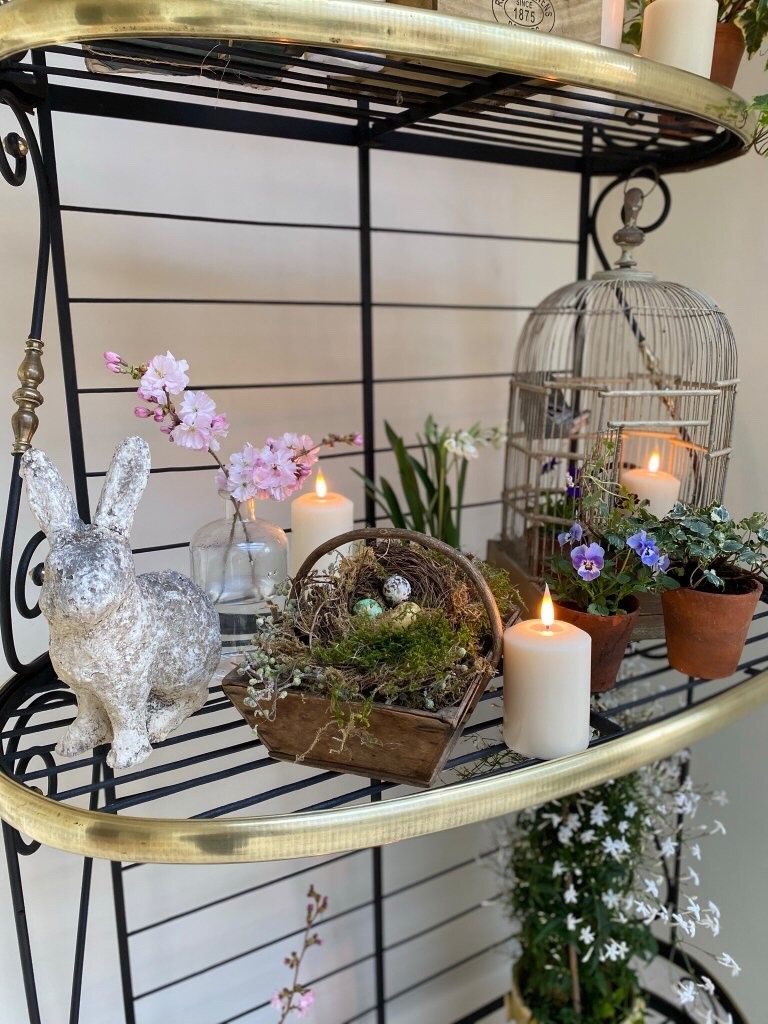 View their entire collection of home, garden and decorative antiques. Hand selected for their unique patinas and character, each piece makes a beautiful addition to your outdoor space. Consider antique chairs or benches for your garden or storage that is practical and decorative. They also have a range of antique pots and planters, to ensure your home is beautiful and unique. www.violetgrey.co.uk
Caryl has chosen to display her range of Pillar LED candles alongside a vintage French trug filled with moss and a birds nest.
Old terracotta pots with pansies and Ivy delicately placed next to the birdcage she found in France (one of her favourite purchases).
"I love putting plants and candles in the birdcages as they have so much character!! and of course using Candled UK candles makes it safe to do this!"
All things floral
Karen @thedartmoorflowershed in Devon enjoys growing and sewing all things floral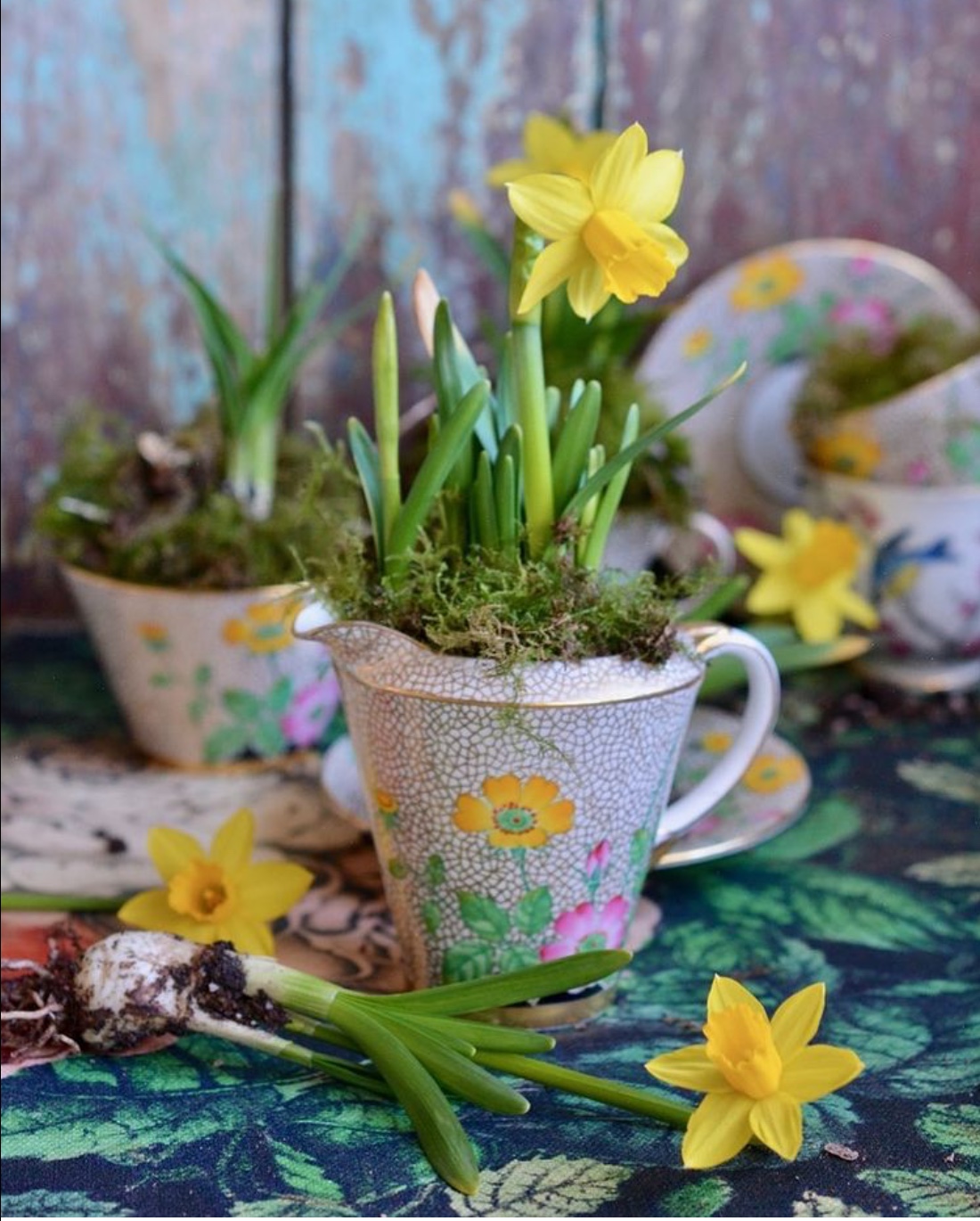 also keeping herself busy
 with craft workshops in her studio overlooking the cottage garden. Flowers can also made to order.
Dartmoor Flower Shed – I live on the edge of Dartmoor where the weather is often harsh and where the winds are destructive, but over the years I have carved out a series of garden 'rooms' around my home where my flowers are protected and where the Cornflowers, Snapdragons and Wallflowers bloom. Karen is a Cottage Gardener with a passion for Cornflowers. Poppies and Delphiniums. Selling some of these flowers from a little blue shed at her gate. But simply growing the flowers is not enough, as she also love's to paint and sew flowers too.
Karen shows in this photo how she likes to keep planting exciting by using this Aynsley china gloriously decorated with hand painted flowers to plant her Spring daffodils, displayed on her dining table.
And so inspiring you to use what you have to decorate your homes with all kinds of different containers to make an Easter display .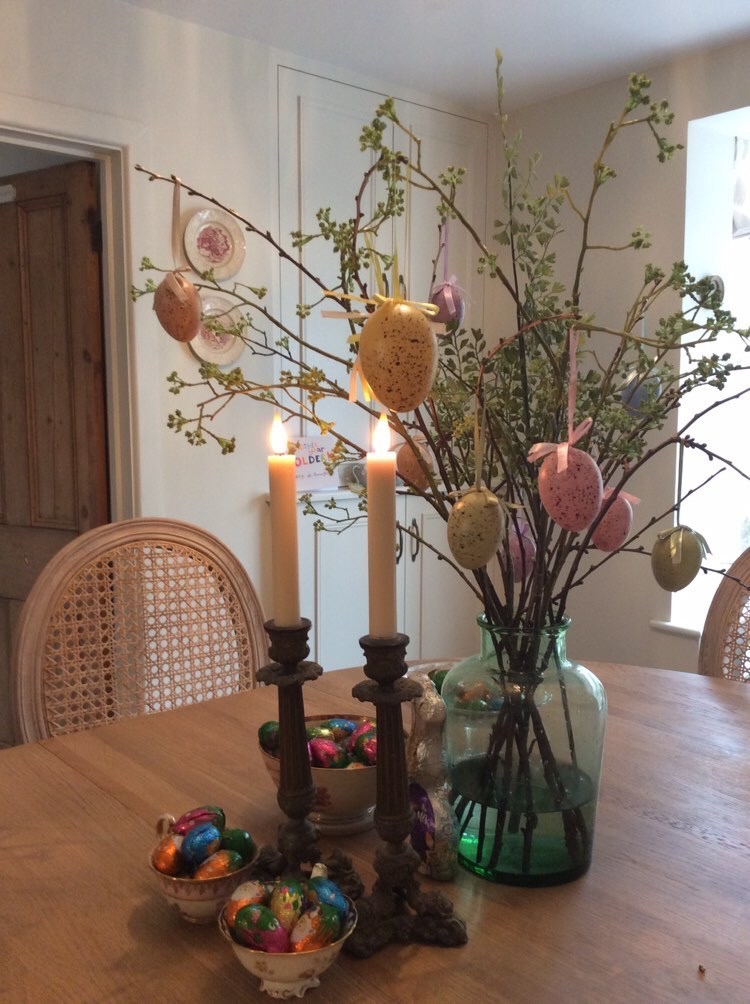 A passion for flowers and candles
Tracy @flowerpotcottage in Hampshire who is a real home bird, loves interiors and is constantly changing things around in her home.  She doesn't follow trends but aims for a cosy mismatched kind of look.
"I love fabrics and have a real passion for flowers and candles"
" I love a bit of Easter styling, simple chocolate coloured eggs, in vintage lustreware and glass bowls, sprigs of blossom and some faux ferns, entwined with pastel eggs.  Which all comes together with our gorgeous 6″ Dinner LED candles  from Candled UK, that are so realistic, which i've styled with vintage candlesticks, that set the scene beautifully.
The Danes have everything you need to decorate your own centrepiece.
"We love this time of year, new beginnings. Our Spring shop is bursting with our favourite Vintage Paper Mache Easter Eggs, quails eggs, fabulous Kraft eggs & kits to create your own decorations this year."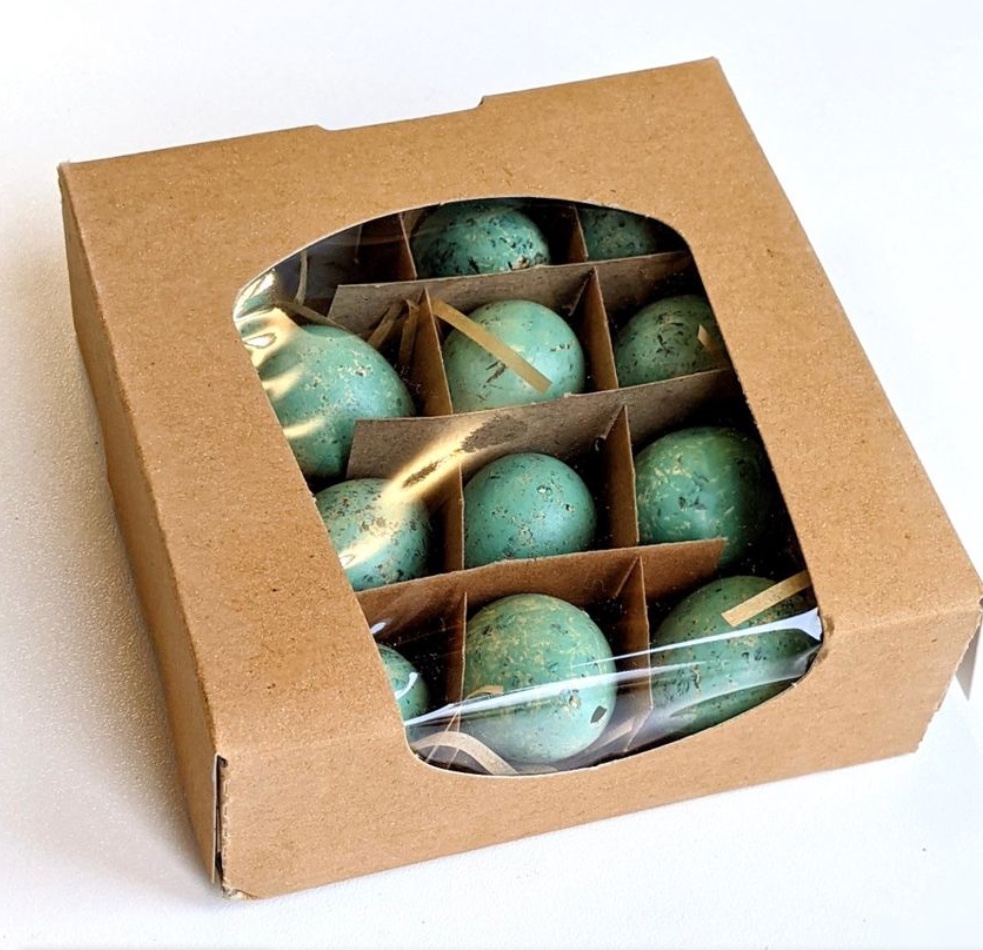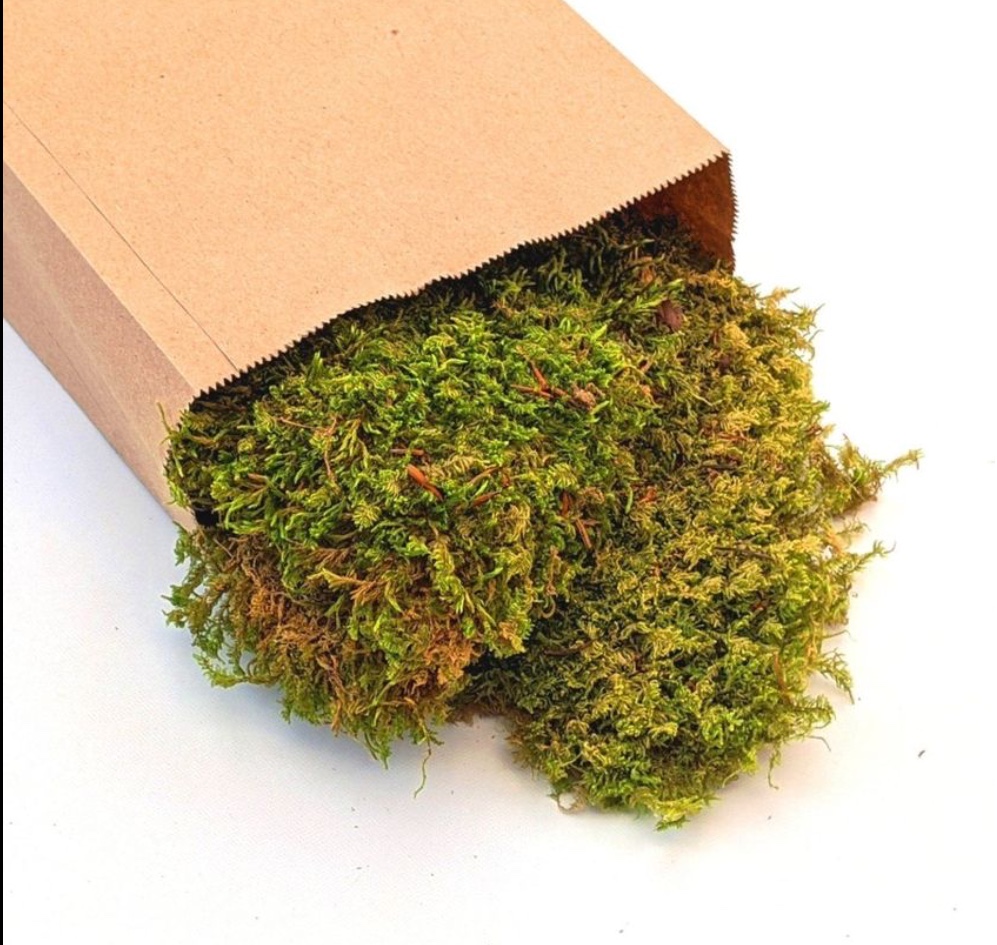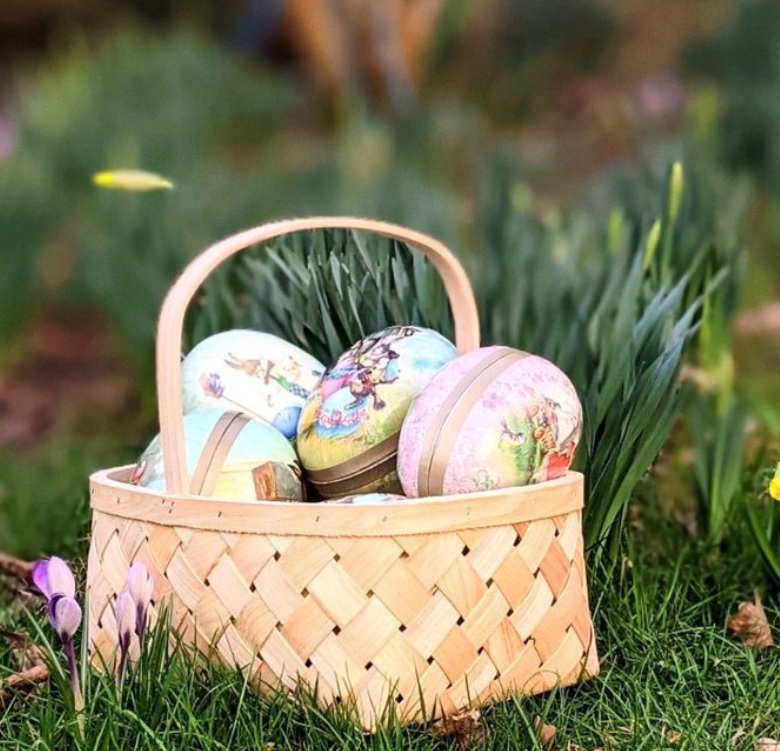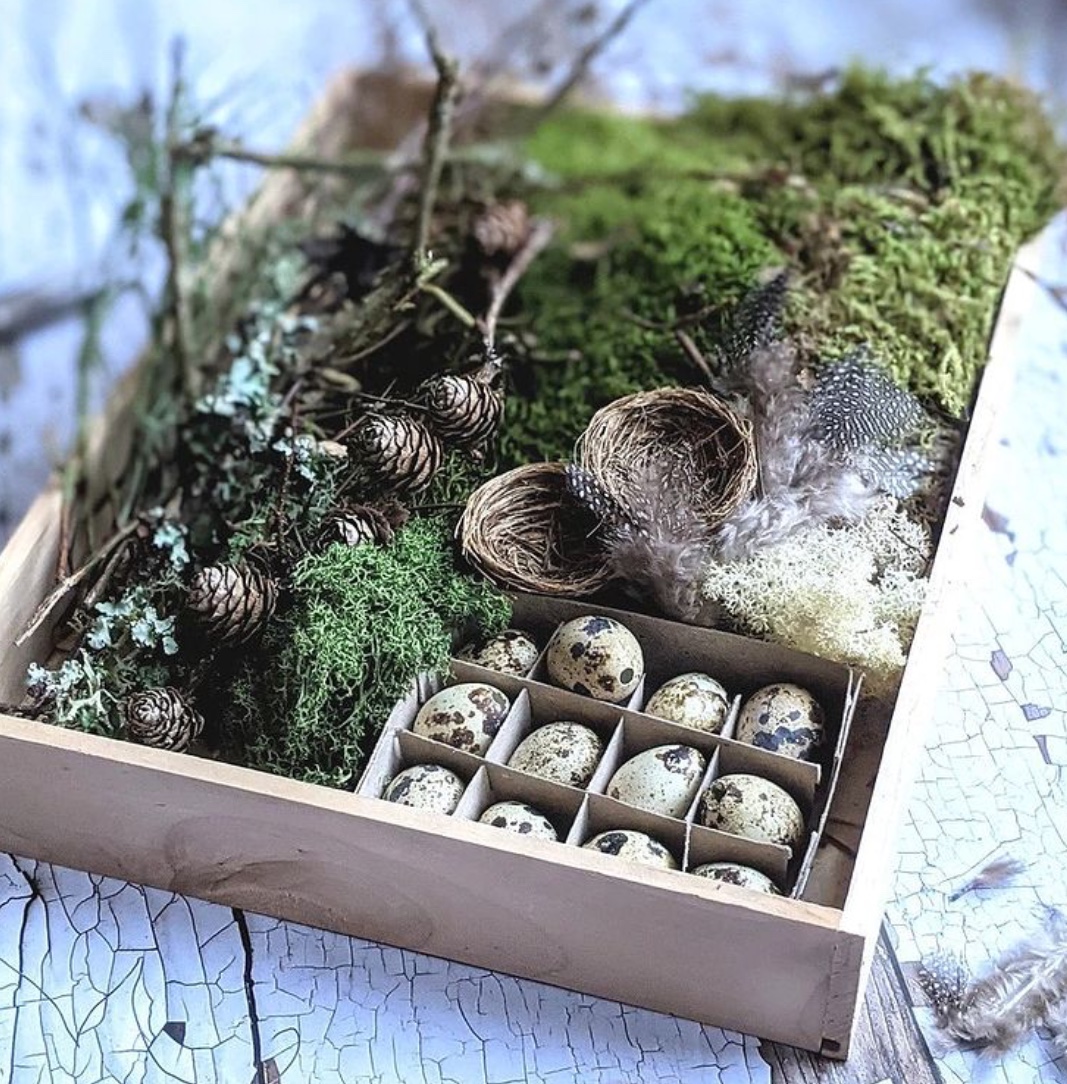 If you've been inspired by our Easter Decor Ideas Blog, we'd love to see your photos!
Send them to eleanor@candled.co.uk
or Tag us –  

Instagram

@candleduk, Facebook @candledltd or

Twitter

@luxuryledcandle